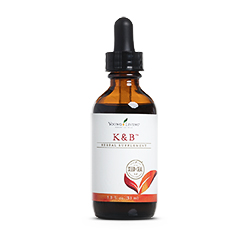 K&B gives your kidney and bladder the nutrients they need to function at their best. This Young Living exclusive is powered by ingredients including juniper berries, uva ursi, and parsley. Young Living rounds out the formula with the premium essential oils Clove, Fennel, Roman Chamomile, Sage, and Juniper, to make K&B the only kidney and bladder health supplement you'll ever want.
K&B Product Information Page

* These statements have not been evaluated by the Food and Drug Administration. Young Living products are not intended to diagnose, treat, cure, or prevent any disease.
How to Use
Take 3 half droppers (3ml) three times daily in distilled water, or as needed.
Shake well before using
Keep in a cool dry place. Keep out of reach of children. Do not expose to excessive heat or direct sunlight. If pregnant or under a doctor's care, consult your physician.