You may have heard the saying "What happens in the bathroom stays in the bathroom." But some powder-room products are too cool not to share, and we feel it's our duty (pun def intended) to tell you about our top toiletries and bathroom buys you never knew you needed. See our 10 must-have items for the smallest room in your house.
1. Tea Tree essential oil
Thanks to its amazing antibacterial properties, Tea Tree tackles both beauty and cleaning needs. Apply it topically to bid blemishes goodbye or rub onto nails to keep them looking healthy and strong. You can even sprinkle some on a cotton ball and stash it beneath your trash can liner to keep bad odors at bay.
2. Thieves Household Cleaner
Feel like you're fighting a losing battle against soap scum and hard-water stains? Keep a pre-diluted bottle of Thieves® in your shower and spend a minute wiping down the walls and door each day—no elbow grease required!
Use this recipe for spot-free shower walls:
½ capful Thieves Household Cleaner
10 drops Tea Tree essential oil (we told you it would come in handy)
4 cups water
3. Charcoal Bar Soap
Made with activated charcoal, this bar soap sucks dirt and impurities out of your pores like a magnet—all without stripping moisture. Plus, it's skinclusive, working equally well for dry, combination, and acne-prone skin.
4. Lavender Calming Bath Bombs
Soothing, calming aroma? Check. Skin-hydrating ingredients like coconut oil and sweet almond oil? Check, check. Available in both Lavender and Stress Away

scents, these bath bombs really are the bomb!
5. Cool Azul essential oil blend
Another bathtime bestie, Cool Azul® is perfect for your post-leg day recovery. Whether you add it to bath water or massage it over sore muscles, you'll love its chilly, refreshing feeling on your skin.
6. Lavender Mint Shampoo and Conditioner
When you want to perk up limp locks, choose a sulfate-free shampoo and conditioner like this pair. While sulfates are good for suds, they're hard on hair, as they suck out too much moisture. This duo cleanses without over-drying and wakes you up with a lovely, invigorating scent.
7. Poppy Seed Lip Scrub
Exfoliate, condition, and moisturize your pucker with just one product. Packed full of lip-loving butters, including cocoa, mango, avocado, and shea, this scrub revives chapped lips so you can nail that perfect pout. For best results, pair it with these tips for leveling up your lips .
8. DIY bathroom spray
Stop smells before they start with this easy DIY. The spray creates a barrier on the surface of the water, so odors can't escape. To make it, all you need is the above-mentioned Thieves Household Cleaner, your fave essential oils, and three other household ingredients.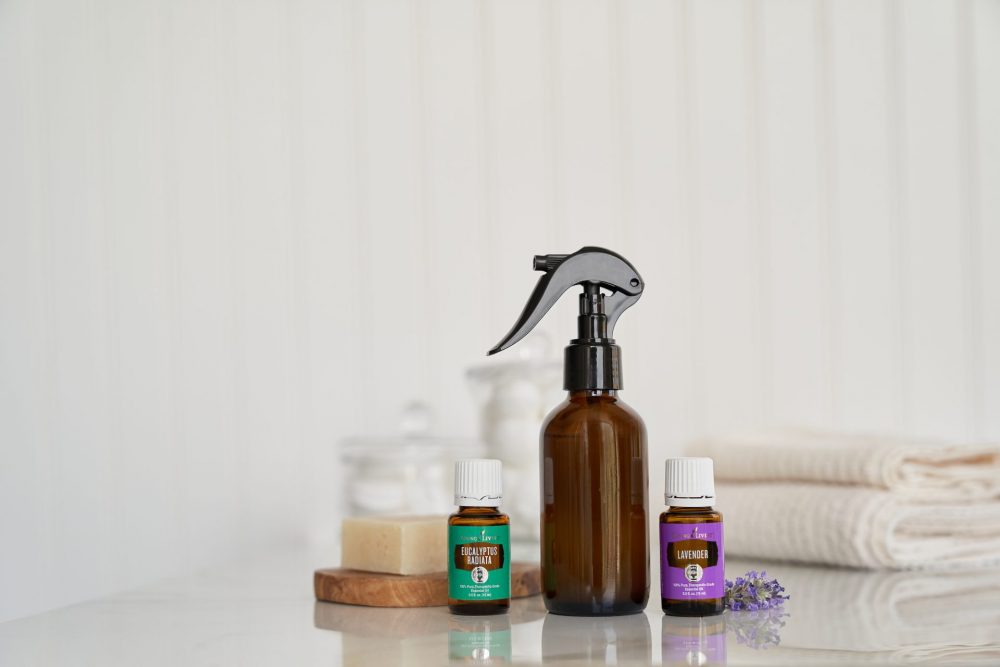 9. LavaMint Softening Foot Scrub
This rejuvenating minty, floral foot scrub is sure to put a new spring in your step. Start by treating your feet to a soothing soak in an essential oil-infused foot bath. Then exfoliate gently with the scrub and finish with a thick moisturizer.
10. Thieves Whitening Toothpaste
Looking for a natural toothpaste that does it all? This terrific tube whitens teeth, fights plaque, supports healthy gums, and removes stains without damaging enamel. Plus, it's free of any icky ingredients, so you can have a stress-free smile.
The post 10 genius bathroom products you never knew you needed appeared first on Young Living Blog.