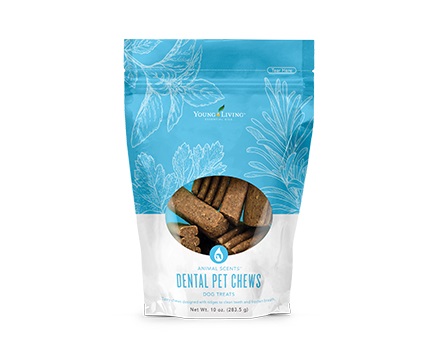 Your pets are part of the family, so why wouldn't you share the goodness of essential oils with them? Animal Scents® Dental Pet Chews combine the power of Spearmint essential oil and green tea extract to create a tasty treat that supports your pet's oral health. Oral care is as important for your furry friends as it is for you. Now maintaining a happy, clean mouth is as simple as tossing your pet an Animal Scents Dental Pet Chew! These tasty treats have grooves that work with animals' instinctive chewing style and support your pet's oral health. Plus, they include naturally derived ingredients. Sound like something you and your pet can agree on? Support your pet's oral care with this simple snack!
Get to Know
PRODUCT BACKGROUND
The pets in your life deserve the benefits of essential oils, too! Our members love our Animal Scents product line, and we want to bring you even more animal-friendly products safeguarded with our Seed to Seal® quality commitment. We formulated Animal Scents Dental Pet Chews as a new way to create a happy home for every member of your family—furry or not!
Ingredients
Ingredients
Potato starch
Pork gelatin
Water
Beet pulp powder
Rice syrup
Pea fiber
Coconut oil
Calcium carbonate
Salt
Sunflower lecithin
Natural flavor powder for dry dog food
Glycerin
Kelp powder
Dried ground dill
Natural preservative (sunflower oil, mixed tocopherols, and rosemary extract)
Green tea extract
Dried ground parsley
Fresh parsley
Spearmint oil
Product Snapshot
FEATURES & BENEFITS
Easy and convenient way to clean your pet's teeth
Works to loosen and dislodge plaque to help break it away from teeth
Freshens breath
Helps promote healthy gums
Fortified with added vitamins and minerals
Made with a porous texture to help clean hard-to-reach teeth down to the gumline.
Formulated without synthetic colors, flavors, dyes, or preservatives
KEY INGREDIENTS
Green tea extract
Spearmint essential oil
calcium carbonate
pea fiber
Suggested Uses
DIRECTIONS
Use Animal Scents Dental Pet Chews 2 times a week or as needed.

Serving Size:
Pets 5-19 pounds: ½ chew
Pets 20 pounds: 1 chew
Consult a veterinarian for pets that are pregnant or under 5 lbs. before use.
EXPERIENCE
Delicious, nutritious, and effective! Your pet is sure to love Animal Scents Dental Pet Chews, and you're sure to love this hassle-free approach to pet dental care.
CAUTIONS: Keep out of reach of children. For external use only. Always offer sufficient water when giving your pet treats or food. Make sure your pet chews the treat completely since gulping any item can harm your pet. This product is not recommended for pets with a history of gulping, choking, or poor chewing capability. Always consult with your veterinarian about the proper nutrition for your pet.

STORAGE
Keep in a cool, dark place.