Baked Tomato and Feta Recipe
Cooking with essential oils is an easy way to add fresh flavor to sides and snacks, and this Mediterranean-inspired dish is no exception! Its cherry tomatoes, fresh garlic, feta cheese, and Vitality™ essential oils perfectly balance savory and salty flavors, so it's sure to hit the spot when you're craving something warm, tasty, and indulgent. Served on slices of toasted bread, this side is the perfect way to cozy up with family or friends around the dinner table or party spread. And the best part about essential oil recipes is how easy they are to whip up—but no one will ever guess how simple it is to make this decadent dish!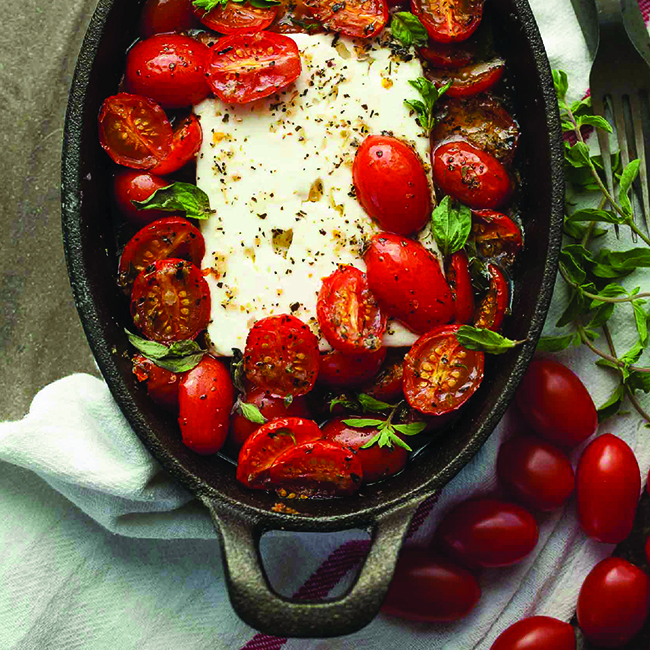 Baked Tomato and Feta Recipe
Ingredients
1 pint cherry tomatoes, halved
1 garlic clove, finely minced
½ teaspoon dried oregano
½ teaspoon dried basil
3 tablespoons extra virgin olive oil
Sea salt and freshly ground black pepper to taste
1 8–10 oz. block feta
2 drops Oregano Vitality™ essential oil
2 drops Basil Vitality™ essential oil
Fresh oregano and basil to garnish
Toasted pita or other crusty bread
Instructions
Preheat oven to 350⁰ F.
In a large bowl, mix the tomatoes, garlic, oregano, basil, olive oil, salt, and pepper.
Place the block of feta in the middle of a medium, shallow baking dish. Place the tomato mixture on top and around the feta. Bake for 15 minutes or until the feta has softened and the tomatoes are fragrant.
Take the baking dish out of the oven and remove 1 tablespoon warm oil from the dish. Add Oregano Vitality and Basil Vitality to the warm olive oil and gently stir to combine. Pour the oil mixture over the warm tomatoes and feta.
Garnish with fresh oregano and basil leaves and serve warm with toasted bread.
https://www.youngliving.com/blog/baked-tomato-and-feta-recipe/
COPYRIGHT (C) 2016 – ALL RIGHTS RESERVED – YOUNG LIVING