Seedlings by Young Living
Parents make hundreds of decisions about the health and happiness of their family each day. With so many products and promises to choose from, Young Living Seedlings™ is designed to make it simple for parents to find pure, gentle products infused with baby-safe essential oils to care for their littlest, most vulnerable family members. The soothing, plant-based formulas use infant-safe essential oils and are free from harmful ingredients to help you gently comfort and care for your little one. With essential oil-infused products made by experts and diluted to a strength safe for your baby, Seedlings leaves you with peace of mind and your baby feeling snug and secure.
Seedlings Baby Lotion, Calm
Nourish baby's delicate skin with a lightly scented, plant-based moisturizer that uses pure essential oils for infants in its gentle formula. This mild lotion quickly absorbs into the skin to gently moisturize, smooth, and support healthy-looking skin.
Seedlings Baby Wipes, Calm
Specially developed for infants' delicate skin, these wipes use pure essential oils for babies and cleansing botanicals in a mild formula with a clean and soothing scent. Made from soft, durable fibers, these gentle baby wipes thoroughly clean from head to toe, while leaving skin smooth and smelling sweet.
Seedlings Diaper Rash Cream
Young Living's Seedlings™ Diaper Rash Cream gently rubs onto infants' skin to relieve, treat, and prevent diaper rash. Created with the purest naturally derived ingredients for your baby, the formulation of essential oils, soothing botanicals, and non-nano zinc oxide reduces redness, seals out wetness, protects the skin, and provides immediate relief on contact.
Seedlings Baby Oil, Calm
Formulated specifically for infants, Young Living Seedlings™ Baby Oil moisturizes, soothes, and nourishes delicate skin with plant-based ingredients and baby-safe essential oils. Use it throughout the day or as part of a nighttime routine to promote a restful night's sleep with its peaceful, relaxing scent.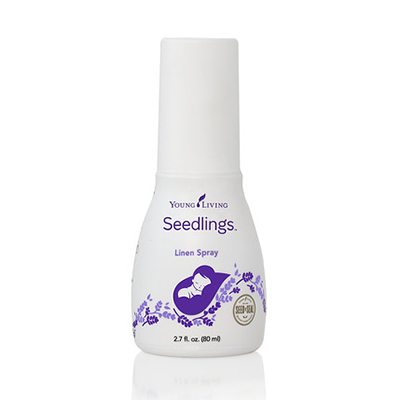 Seedlings Linen Spray, Calm
Envelop your child in the calming aroma of Young Living Seedlings™ Linen Spray. This naturally derived spray uses infant-safe essential oils but no alcohol, artificial fragrances or dyes, or synthetic preservatives, so it safely freshens bedding, car seats, and clothing throughout everyday play and nighttime routines..
Seedlings Baby Wash & Shampoo, Calm
Made specifically for baby's needs, Young Living Seedlings™ Baby Wash & Shampoo gently cleanses skin and hair, leaving it soft, smooth, and lightly scented with Young Living's Calm blend of Lavender, Coriander, Bergamot, Ylang Ylang, and Geranium. Comprised of the purest ingredients and essential oils for babies, the sulfate-free, non-drying formula is also tear-free and ready for bath time play.