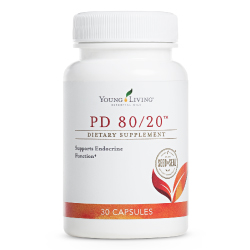 PD 80/20™ is a dietary supplement formulated to help maximize internal health and support the endocrine system.* It contains pregnenolone and DHEA, two substances produced naturally by the body that decline with age. Pregnenolone is the key precursor for the body's production of estrogen, DHEA, and progesterone, and it also has an impact on mental acuity and memory.* DHEA is involved in maintaining the health of the cardiovascular and immune systems.*
* These statements have not been evaluated by the Food and Drug Administration. Young Living products are not intended to diagnose, treat, cure, or prevent any disease.
How to Use
Start with 1 capsule per day, then increase to 2 capsules per day as needed.
Keep in a cool dry place. Keep out of reach of children. If pregnant or under a doctor's care, consult your physician.