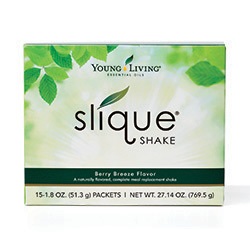 Slique® Shake is a complete meal replacement shake that provides quick, satisfying, and delicious nutrition. In a convenient, single-serving packet, it's easy to slip into a purse or pocket for healthy eating on the go. Give your clean eating a kickstart with Slique Shake!
Note: The product lot available on Essential Specials has a recommended "use by" date of March 1, 2020.
Frequently Asked Questions
1. Why is Slique® Shake on Essential Specials?
a. We have a product lot that is approaching the end of its shelf life. Product with a full shelf life is still available for purchase at our standard price.
2. How is this product different?
a. This product in this lot is nearing the end of its shelf life, so it is available to our members at a discounted rate.
3. What is the expiration date?
a. We encourage you to use this product by March 1, 2020. The Slique Shake available on Essential Specials is nearing the end of the manufacturer-provided shelf life, but through testing, we have determined this product still meets all Young Living's quality standards.
4. How long will this product be available on E-Specials?
a. A limited quantity of this product is available while supplies last.
How to Use
Add 1 Slique Shake packet to 8 ounces of water or the milk of your choice. Shake, stir, or blend until smooth.
Ingredients
Pea protein isolate, Isomalto-oligosaccharide, Medium chain triglycerides, Tapioca dextrose, Organic palm sugar, Natural flavor, Organic quinoa powder, Organic pumpkin seed protein, Xanthan gum, Strawberry fruit powder, Sodium citrate, Malic acid, Fruit & vegetable extract blend (Green tea leaf extract, Guarana seed extract, Red & white grape extracts, Grapefruit extract, Black carrot extract, Vitamin B3), Alfalfa grass juice powder, Organic wolfberry fruit powder, Stevia, Slique essential oil (Grapefruit rind oil, Tangerine rind oil, Spearmint leaf oil, Lemon rind oil, Ocotea leaf oil, Stevia leaf extract), Vitamins and Minerals: Dipotassium phosphate, Monosodium phosphate, Magnesium oxide, Zinc gluconate, Organic B vitamin blend (Guava extract, Holy basil extract, Citrus limon extract), Ascorbic acid, Molybdenum glycinate, Niacin, Copper gluconate, Biotin, Vitamin A acetate, Sodium selenite, d-Calcium pantothenate, Chromium nicotinate glycinate chelate, Riboflavin, Pyridoxine HCl, Potassium iodide, Methylcobalamin
Click the image below to enlarge.