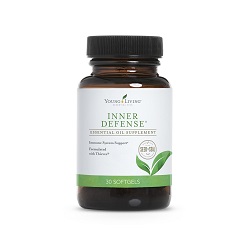 Inner Defense™ reinforces systemic defenses, creates unfriendly terrain for yeast and fungus, promotes healthy respiratory function, and contains potent essential oils such as Oregano, Thyme, and Thieves®, which are rich in thymol, carvacrol, and eugenol for immune support. The liquid softgels dissolve quickly for maximum results. The softgel capsules are formulated with fish gelatin to remove the need for carrageenan and beeswax.
How to Use
Take 1 softgel daily (a.m.) or take 1 softgel 3-5 times daily when needed. For best results use Life 9™ 8 hours later.
Keep out of reach of children. If pregnant, nursing, taking medication, or have a medical condition, consult a healthcare practitioner prior to use.
Keep in a cool, dark place. Do not expose to excessive heat or direct sunlight.
Contains fish (tilapia, carp) and tree nuts (coconut).