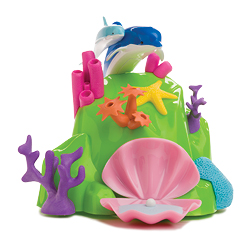 The exclusive KidScents® Dolphin Reef Diffuser cover is designed to be used with Young Living's proprietary, interchangeable diffuser motor (motors not available) and features a playful mother dolphin and her calf swimming through color-illuminated vapor released by pink sea sponges.
How to Use
1. Remove motor lid.
2. Add room-temperature tap water until level reaches, but does not exceed, the water fill line. (Always unplug the diffuser when filling or emptying the water reservoir.)
3. Add 5-8 drops of Young Living essential oil.
4. Place the lid back onto the motor.
5. Plug the power line plug into the motor.
6. Place the diffuser cover onto the motor and press down on the cover to ensure that the connecting latches click to the locked position.
7. Plug the power adaptor into a power outlet.
8. Press the Power button to turn on the diffuser.
9. To remove the cover from the diffuser motor, press both cover release buttons (C) at the same time, and then lift the cover off of the motor.