Hair Follicle Spray
This recipe is adapted from Jen O'Sullivan's book,
 Essential Oil Make & Takes
Jen is certified in French Medicinal Aromatherapy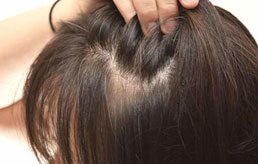 Ingredients:
4 oz. glass or metal spray bottle
3 oz. clean Water or Peppermint (Rosemary or Lavender) Hydrosol
(See recipe below)
FOR WOMEN:  20 drops each essential oil:
Peppermint
Lavender
Cedarwood
Rosemary
Cypress
Thyme
Clary Sage
For the women's formula I also add in Hynoki and Ylang Ylang
FOR MEN:  20 drops each essential oil:
Peppermint
Lavender
Cedarwood
Rosemary
Cypress
Thyme
Northern Light Black Spruce
DIY Directions:  Combine all essential oils into spray bottle and swirl to blend.  Add clean water or hydrosol and gently shake to mix.
Directions for Use:  Spray directly onto scalp 2 times daily.  (Some find that this is an invigorating spray and may want to avoid using it prior to bedtime.)  But if this is you, enjoy the daytime mind-lifting experience!
Refrigerate and use within one month.
Hydrosol
Ingredients:
Fresh Organic Peppermint (Lavender or Rosemary)
If possible, make sure they are the correct Latin binomial.  Mentha piperita, Lavandula angustifolia or Rosmarinus officinalis.
Large Stainless Steel Pot with Lid
Small Ramekin
Medium Bowl to fit on top of Ramekin inside the pot
Clean Water
Ice Cubes
DIY Directions:
Place ramekin upside down in large pot.
Place medium bowl on top.  There should be at least two inches of space between the bowls outside edge and the pots inside edge.
Add cut up plants into the pot around the ramekin.
Fill with clean water to almost cover the plants.  Put on low heat.  It should get just hot enough to make steam; do not boil.
Place the lid over the pot upside down so the lid handle is underneath.  Place a large handful of ice on the upside-down lid.
As the steam rises, the ice will cool it – causing it to create liquid condensation that will drip down into the bowl.  This is the Hydrosol.
Allow the water to collect for 20-30 minutes.   Using oven mitts remove the melted water from the lid and continue to add ice as needed.
Pour Hydrosol into the bottle you are using for the Hair follicle Spray.